Spring 2021 – "Shakespeare Bits and Pieces: Words of the Bard of Avon"
SUNY Broome Theater's virtual production of Shakespeare Bits and Pieces: Words of the Bard of Avon debuted on the SUNY Broome Youtube channel May 10, 2021.
This retrospective of some of his most famous words is free, educational and illuminating, as many of Shakespeare's words and quotes are now a part of the popular culture. The link to tune in is below.
The show features period music by SUNY Broome's Music Adjunct Professor and Guitar teacher Paul Sweeny along with Barbara Kaufman as well as period songs. It also features Instructor Ed Evans, and SUNY Broome theater alumnae who trained here with director Katherine Bacon.
This rare opportunity features selections from a long list of Shakespeare's plays such as Romeo and Juliet, Hamlet, A Midsummer Night's Dream, The Taming of the Shrew, Julius Caesar, Henry VI, Much Ado About Nothing, Othello, The Tempest as well as some of the famous Sonnets.
View this production on the SUNY Broome YouTube channel.
Fall 2020 – "Yours Truly, Jack Frost" by Tim Kelly
SUNY Broome Theater will present its first ever virtual production with a children's show at holiday time. The schools in our entire region was invited free of charge to this pre-recorded, livestreamed performance the week of December 14, 2021.
The 30-minute play, Yours Truly, Jack Frost by Tim Kelly is meant for children approximately 7 to 10 years old but it can also be for all children or adults of any age! It is a sparkling story full of intrigue, interesting characters and even a dog that talks. It is the story of the old-fashioned Jack Frost who provides all the frost for the holiday season, and the greedy businesswoman, Evelina Muggleworth, who wants to steal Jack's formula and market it to the world.
"Performed live in the theater four times in years past, Yours Truly, Jack Frost was always a hit. The cast is currently rehearsing, all online of course, and experiencing the challenges and opportunities offered by this new way to deliver a show," said theater director Katherine Bacon. "We are grateful to BOCES for helping us to share the performance details with the elementary schools in our region," she said.
Fall 2019 – "Curtains Up on Broadway: A selection of Stage and Film Masterpieces"
Directed by Associate Professor Katherine Bacon, SUNY Broome Theater's fall 2019 production is CURTAINS UP ON BROADWAY: A Selection of Stage and Film Masterpieces. An evening of all Pulitzer, Oscar and Tony winning works, all are from plays that were made into films. Director Katherine Bacon is appearing in the production along with her students in one role. Live music accompanies this entertaining and educational evening of plays and films that have inspired generations. 7:30 pm on Thursday and Friday, November 21 and 22 in the Student Center on the SUNY Broome campus. Call for reservations at +1 (607) 778-5191.
Spring 2019 – "The King Stag," written by Italian playwright Count Carlo Gozzi
Directed by Associate Professor Katherine Bacon, SUNY Broome Theater's spring production will be "The King Stag," written by Italian playwright Count Carlo Gozzi in 1762. The classic commedia dell'arte play has been translated, adapted and performed for almost three centuries. Set in the fantastical world in the Kingdom of Serendippo, the plot involves mistaken identities, star crossed lovers, spells, animals and magicians – including many of the stock commedia characters. Gozzi is noted for taking ancient myths and turning them into relevant morality tales. Turandot, the famous Puccini opera, and The Love For Three Oranges, the Prokofiev opera, are two great works that were based on plays by Carlo Gozzi.
Fall 2018 – "Rumors" by Neil Simon
SUNY Broome Theater will present one of the most popular plays by the recently deceased comic playwright Neil Simon this fall. "Rumors" will be performed at 7:30 pm Thursday, Nov. 15; Friday, Nov. 16; and Saturday, Nov. 17, 2018, in the Angelo Zuccolo Little Theatre, located in the Student Center.
"On Aug. 26, the world lost what the New York Times called the 'Broadway Master of Comedy' in 91-year-old playwright Neil Simon," said theater director Katherine Bacon. "We are proud to be able to honor this great comic writer by presenting one of his most popular plays. Don't miss the chance to see this hilarious comedy by this Pulitzer-prize winning, legendary playwright."
Simon was nominated for four Oscars and received a number of Tony Awards. In fact Neil Simon, received more Tony and Oscar nominations than any other writer, not just playwrights.

Neil Simon's list of works is too long to name, but he wrote 30 plays including "The Odd Couple", "The Last of the Red Hot Lovers", "Plaza Suite", "The Goodbye Girl", "Sweet Charity", "Barefoot in the Park", "Brighton Beach Memoirs", "Broadway Bound", "Biloxi Blues", "The Dinner Party" and the play for which he won the Pulitzer, "The Drama Desk", and the Tony, "Lost in Yonkers". He wrote adaptations of many of his works for television movies and screenplays. He also wrote for a number of early television comedy shows along with Mel Brooks, Woody Allen, Sid Caesar, etc. He also wrote the book for four musicals including the smash hit "Promises, Promises".
Fall 2017 – "Fools" by Neil Simon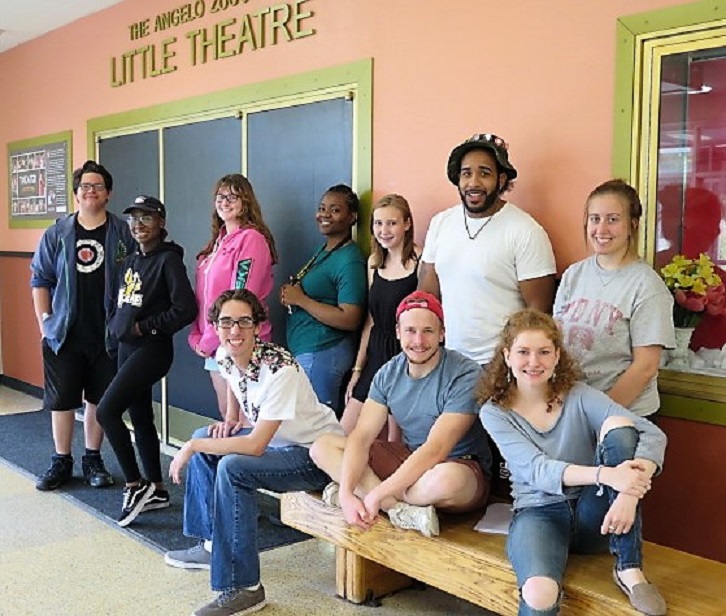 SUNY Broome Theater presents Neil Simon's "Fools" on Thursday and Friday, November 16 & 17 at 7:30 pm in the Student Center. One can reserve tickets starting on November 8 by calling 778-5191. Tickets are $10.00, $5.00 for students.
"The students and I are lucky and thrilled to be working again with a play by Neil Simon," said theater director Katherine Bacon. "He is still considered the premier comedy writer for the stage, for film and for musical theater."
Spring 2017 – "The Arsonists" by Max Frisch
SUNY Broome Theater presents The Arsonists by Max Frisch as its spring production. Translated by Alistair Beaton, the play is a provocative mix of dark comedy, realism, farce and social critique. Director Katherine Bacon says the play was "originally titled Biedermann and the Firebugs, and is considered to be Frisch's best play. It has been said that his work is a commentary on the inability of intellectuals to expose evil and take a stand against it, as in what he witnessed as the rise and supremacy of the Nazi party. Others have said that Frisch meant to criticize Switzerland's (his home country) neutral stand to Nazism during World War II. The play seems to say that we can't be decent people at home while ignoring the evils of the world, but it does so in a delightful way. Frisch worked with and was heavily influenced by playwright and director Bertolt Brecht. Therefore the play, and our production, have a Brechtian style."
A review in The Guardian said, "Frisch's theme, as Alistair Beaton's sharp new translation makes clear, is bourgeois guilt … compact, well-characterized and easily applicable to today's world … a timeless political satire."
Fall 2016 – Scene Study Showcase
SUNY Broome Theater's director Katherine Bacon (pictured 4th from the left in the photo) is proud to present the 2016 Scene Study Showcase featuring the work of famous playwrights mainly to mark the passing of the renowned American author Edward Albee who passed away this September. "The Zoo Story," his first well-known play and a scene from the rarely performed "Who's Afraid of Virginia Woolf" are featured. A scene from "Antony and Cleopatra" is performed also to mark the 400th anniversary of the death of William Shakespeare this year. David Mamet and Neil Simon scenes are also presented as well as one musical scene from "The Phantom of the Opera." Performances were Thursday and Friday, November 17 & 18 at 7:30 pm.
Spring 2016 – Student-Choice Spring Showcase
Performed on April 14 and 15 2016
"The Periods & Styles of Acting Class" was proud to present the Student-Choice Spring Showcase featuring the work of great playwrights. Performed on Thursday and Friday, April 14 and 15, the Showcase included a staging of an original work titled Thank You Rosa (on Rosa Parks) in support of this year's Convocation theme of "Civil Rights" and in partnership with the newly formed "SUNY Broome Women's Institute." Also seen were the work of playwrights Tennessee Williams, August Wilson, Arthur Miller, Samuel Beckett, William Inge, Tony Kushner and our own Jan Quackenbush.
Fall 2015 – Alien Invasions: Rod Serling's 'The Monsters Are Due on Maple Street' and Gore Vidal's 'Visit to a Small Planet'
Performed on November 19, 20 & 21st at 7:00 pm.
Theater students enacted the original Rod Serling script just as it was done for television on March 4, 1960. Gore Vidal's "Visit to a Small Planet" refers to our planet Earth and is a rarely produced comedy with an alien who is quite fascinated with the human race.
Anne Serling, the daughter of Rod Serling, was a special guest in the audience on Saturday evening and Larry Kassan, a Rod Serling expert, conducted a stimulating Q & A after the show on Friday evening.
Directed by Associate Professor Katherine Bacon the cast featured from left to right: Ulrich Henry, Dallas Elwood, Madison Donaldson, Matthew Waskie, Gabriella Arshi, Elizabeth Youket, Christian Webb, Juwuan DeJesus and Megan Voss. Seated is Tijuanna Chrispin. A cast member missing from the photo is Alex Bojan. Director Katherine Bacon appeared as the Narrator (with the lines originally said by Rod Serling) in the Serling play.
Spring 2015 – Flights of Fancy: Four Plays by David Ives
Flights of Fancy: Four Plays by David Ives was the first ever production of SUNY Broome's theater to perform in the community. There were two successful performances at the Schorr Family Firehouse Stage in Johnson City. Performances were at the college's theater on May 8 and 9 following the renaming of the famous Little Theater to The Angelo Zuccolo Little Theater and also May 14 and 15 at the Firehouse Stage.
The show kicked off another first ever for SUNY Broome which was Performing Arts Week — 8 straight days of showcasing the work of our theater, music, dance and oral interpretation students.
Fall 2014 – The Thirteen Clocks
The play version of The Thirteen Clocks by James Thurber had two performances in late November of 2014 in SUNY Broome's Little Theater. Directed by Katherine Bacon the cast included Jackson Somerville, Dallas Elwood, Greg Kenyon, Hannah Merrell and Beth Moffitt in the principal roles. Also in the cast were Rebecca Ollerenshaw, Tijuana Chrispin, Christian Webb, Curtis Brock, Erika Harper and Logan Smith who appeared a guest artist. Joy Thornton was the narrator.
The story of The Thirteen Clocks is internationally famous. Our version of James Thurber's famous story was adapted and produced by Frank Lowe for the stage in 1976. The most famous of the many audio recordings is by the wonderful Neil Gaiman. Though this play is like many fairy tales in that the handsome prince saves the princess from an evil duke and marries her, it is quite different in one particular way. The Prince in our story can choose from many princesses in his realm but he wants this particular princess because she has a "warm hand and a warm heart." The book and play are famous for Thurber's unique cadenced style with a constant complex wordplay and hidden rhymes much like in blank verse.
Spring 2014 – A Touch of Neil Simon
Two Pieces from his early life 1937-1945
You will see segments from the heartwarming and funny Brighton Beach Memoirs and Biloxi Blues, two of the plays from Neil Simon's autobiographical trilogy. These rarely done works both won Tony and Drama Desk Awards and were made into major feature films. They are pure Neil Simon. Don't miss the chance to see a "touch" of the early life of this Pulitzer-prize winning, legendary playwright. Simon wrote 87 stage plays including The Odd Couple, The Sunshine Boys, Rumors:A Farce, The Last of the Red Hot Lovers, Plaza Suite, The Goodbye Girl, California Suite, Chapter Two, Sweet Charity, Barefoot in the Park, The Star Spangled Girl, Broadway Bound, The Dinner Party, Lost in Yonkers, They're Playing Our Song and, oh, so many more.
Featured in photo are 5 SUNY Broome students from the cast of 12. Appearing in Biloxi Blues are Dallas Elwood, Logan Smith, Shane Smith, Alexander Marin and Jackson Sommerville.
Fall 2013 – Molière's SCAPIN
SUNY Broome theater's fall 2013 production was Molière's SCAPIN, presented on November 21 and 22 in the college's Little Theater. Famous French playwright and actor Jean Baptiste Poquelin, better known as Molière, wrote scathing comic dramas that are as enduring today as ever. The comedic farce SCAPIN was first produced in Paris in 1671. Molière's themes and hilarious situations still manage to resonate after four centuries. Our production features a modernized version of SCAPIN by Bill Irwin and Mark O'Donnell.
SUNY Broome student Jeff Tagliaferro is starring in the role of Scapin with Logan Smith in the role of Sylvestre. Rounding out the cast are Arman Rahimi, Alex Marin, Ali Cekic, Gregory Kenyon, Erika Harper, Hannah Merrell and Arica Hayes with Assoc. Professor Katherine Bacon directing
Spring 2013 – A Woman Scorned
The spring 2013 production was a scene night titled A Woman Scorned. Conceived and directed by the Dr. Carol Silverberg, the evening highlighted the work of 20th century American women playwrights, Maureen Watkins, Beth Henley, and Wendy Wasserstein. The evening's first selections came from Watkins's Chicago, the play that inspired the hit Broadway musical. Following the notorious acts of the legendary Roxie Hart, audiences viewed a tale of attempted murder and intrigue in scenes from Beth Henley's Pulitzer Prize winning dark comedy, Crimes of the Heart. The evening concluded with Wasserstein's one-act comedy Medea, a delightful mixture of modern New York humor combined with that of the Greek playwright Euripides.
The cast featured Rebecca Harding, Rachel Hardy, Jaimie Girnis, James Bullis, Jonathan Collins, Brionna Cicak, Dylan Gardner, Arica Hayes, Alex Marin, Arman Rahimi, Jeff Tagliaferro, Mariyah Wayman, and Cassidy Wright.
Performances were April 26 & 27 at 7:00 pm in SUNY Broome's Little Theatre.
Fall 2012 – A Heart Divided
Gripping Drama Featuring Traditional American Songs
Slated for November 8, 9 and 10 in the Little Theater at 7:00 pm
For the 150th commemoration of The Civil War, BCC Theater presents A Heart Divided, a play that sheds light on the controversy that continues in 2012 to divide our nation, north and south. BCC theater students are pictured in rehearsal for this powerful story. The play depicts a family that moves from a New York City suburb to Redford, Tennessee, where they encounter a culture that shocks them – one that proudly flies a Confederate flag. The family's teenaged daughter Kate aspires to be a playwright and falls in love with the handsome scion of the town, Jackson Redford III, whose great grandfather died a Civil War hero. Kate is torn between her own upbringing and that of the boy with whom she has fallen in love and the whole family is gripped by a conflict that has tragic results.
BCC theater students Rebecca Harding and Bobby Cebula play the roles of Kate and Jackson. Rachel Hardy, Jaimie Girnis, Dylan Gardner, Cassidy Wright, Joy Thornton, Stephanie Reyes and Jonathan Collins round out the cast. BCC music student Shawn White will accompany the production. A Heart Divided was written by the husband and wife team of Cherie Bennett and Jeff Gottesfeld. The performances are Thursday, Friday and Saturday, November 8, 9 and 10 at 7:00 pm in the Little Theater.
Spring 2012 – The Dining Room
BCC student actors performed in A.R. Gurney's The Dining Room. Cast members are: Tom Larison, Joel Nelson, Brionna Cicak, Rebecca Harding, Rachel Hardy, Dylan Gardner, Jaimie Girnis, Cassidy Wright and Alexander Marin.
The Dining Room was written in 1982, the play is a mosaic of interrelated scenes – some funny, some touching — which create an in-depth portrait of a vanishing species: the upper-middle-class WASP. The "dining room" itself is used as a symbol of the vanishing family life in America that began to dissolve in the late 20th century. As family-centered mealtimes began to disappear, the dining room, as society knew it, began to disappear too. In the production, the actors change roles, personalities and ages as they portray a wide variety of characters, from little boys to stern grandfathers, and from giggling teenage girls to Irish housemaids.
One of the most produced playwrights in America, A. R. Gurney's many plays include The Cocktail Hour, Love Letters, The Middle Ages, Another Antigone, A Cheever Evening and What I Did Last Summer. Gurney is a New Yorker originally from Buffalo.
Fall 2011 – Scenes of the 19th Century Masters: Featuring Chekhov, Ibsen and Alcott
Standing Left to right: Dylan Gardner, Rachel Hardy, Tom Larison, Brianna Wagstaff, Joel Nelson, Lianna Hill. Seated left to right: Rebecca Harding, Jeff Tagliaferro, Brionna Cicak

Left to right rear are cast members Rachel Hardy, Rebecca Harding, Brionna Cicak, Jeff Tagliaferro, Dylan Gardner, Lianna Hill and Tom Larison.
Front left to right are crew members Jihee You and Gayani Bulathsinghala

Seated Left to right are: Jeff Tagliaferro, Brionna Cicak, Rebecca Harding, Director/Teacher Katherine Bacon and Lianna Hill Rear is Jihee You, Rachel Hardy, Tom Larison and Dylan Gardner
The Advanced Acting class will be performing Scenes of the 19th Century Masters on Friday and Saturday, November 18 & 19 at 7:00 pm in the Little Theater.
The famous plays from which scenes will be presented are: An Enemy of the People by Henrik Ibsen adapted by Arthur miller, The Marriage Proposal and The Sea Gull by Anton Chekhov, and Little Women by Louisa May Alcott.
Spring 2011 – A Date With Fate – A Short Play
The World Premiere of a new play about internet dating by local playwright Laura Cunningham (with Lynn Szigeti & Erin Yurday)
December 2010 – Yours Truly, Jack Frost
Yours Truly, Jack Frost cast left to right: Mikey Carlson, Gayani Bulathsinghala, Julie Cimaomo (on the floor), Joel Nelson, Karissa Guilfoyle, Kaylee Bottini, Lianna Hill, Brionna Cicak, Mary Rent, Corinne Allman, Jeff Blodgett, Ron Pelton.
By Tim Kelly – Holiday Children's Production – December 2010
Fall 2010 – Lovestruck, An Evening of Romance
Left to right back row: Cast members Brooke Shadduck, Adam Sirois, Brandie Knecht, Anthony Messersmith, Tom Larison, Brionna Cicak, Lianna Hill and Stage Manager Gayani Bulanthingsala Bottom left to right: Professor/Director Katherine Bacon, Ben Sperduti, Samantha Rollins and in front is Ethan Doane
BCC theater will present its fall production on Friday and Saturday, November 19 & 20 at 7:00 pm in the Little Theater. Lovestruck; An Evening of Romance will include five short comedic plays headlined by the hilarious Welcome to the Moon by John Patrick Shanley (author of the Oscar- winning film Moonstruck and Pulitzer Prize- winning play Doubt). The Red Coat, A Lonely Impulse of Delight and Out West also by Shanley are presented as well as the delightful Brights by David Smilow. The evening will also feature songs, quotes and original material by the cast of 12 on the subject of love in all its manifestations.
Spring 2010 – Our Town
The Theater Department announces its spring production of the Pulitzer-Prize Winning American Classic by Thornton Wilder, Our Town.
Our Town cast members: senior theater students Carrie Marsh (Emily) and Kaleb Williams (George)
The Theater department is happy to announce that it has successfully completed negotiations with Samuel French, Inc. to produce the classic Our Town by Thornton Wilder. This timeless work of dramatic literature has been playing in New York City at the Barrow Street Theater to critical and popular acclaim for over a year. We're so happy to be bringing it to our area and rehearsals are in progress with a cast of 12.
Our Town is a Pulitzer-Prize winning play that has established itself as a rare American classic, not only in this country, but in nearly every other country in the world.
Fall 2009 – Imagine
Broome Community College's Little Theater Players Present The Premiere of IMAGINE, A Short One-Act Play And a Trilogy of New Mini-Plays by Jan Quackenbush.
THE CAST & CREW OF IMAGINE, a Short One-Act Play and a Trilogy of New Mini-plays
BCC's theater department is proud to offer the works of Jan Quackenbush as its first production of new work in many years.
These four new plays focus on writers who inspired the playwright — Kate Chopin, John Lennon, Sara Pritchard and Jack Kerouac. Framed by music, songs and pieces created by the theater students, the evening will also include readings from the works of the authors.
Jan Quackenbush has been the playwriting teacher in BCC's theater department for 7 years and also teaches courses at Wilkes University. A number of his plays have been produced locally by the Know Theater's Local Playwright's Festivals. Jan is published widely and his plays produced frequently in the USA and Europe most notably at the La Mama Etc theatre in NYC and at the Edinburgh Fringe Festival.
Performances are Friday and Saturday, November 20 & 21 at 7:00 pm at BCC's Little Theater in the Student Center (next to the Ice Center). General Admission is $6.00/Students $5.00. Tickets are cash only at the box office on the day of performance but reservations need to be made by calling 778-5191 after November 15. Children under the age of 12 will not be admitted.
Spring 2009 – Rumors, A Farce
Rumors, A Farce, is a zany adult comedy and was first produced in 1988 at the Old Globe Theatre in San Diego, California, and later that year at Broadway's Broadhurst Theatre in New York City. Since then, the play has been staged by numerous high schools and colleges across the country. Featuring a delightful group of everyday characters in bizarre circumstances, the play is full of the usual farcical traits of slamming doors, crazy one-liners and transparent cover-ups.
Neil Simon won Emmy nominations for his comedy writing work on the Sid Caesar Show and Phil Silvers Show in the days of early television, and then wrote his first play, Come Blow Your Horn, in 1961. This was followed in 1964 by the legendary Barefoot in the Park, earning him a Tony nomination and launching his career as a major American playwright. He then went on to write a long list of hit plays that have made his name almost a household word including: The Odd Couple, Sweet Charity, The Star Spangled Girl, Plaza Suite, Last of the Red Hot Lovers, The Prisoner of Second Avenue, The Sunshine Boys, California Suite, Chapter Two and many others. Neil Simon's play The Odd Couple has been adapted for two television series, The Odd Couple in 1970, and The Oddball Couple: Together Again (also known as The Odd Couple: One More Time) in 1993 and was made into a feature film in 1968.
In the 1966-67 season Neil Simon had four plays running simultaneously on Broadway. In the 1980s Simon produced his legendary autobiographical trilogy — Brighton Beach Memoirs (1983), Biloxi Blues (1985), and Broadway Bound (1986). Then in 1991, his play Lost in Yonkers won him a Tony Award and the Pulitzer Prize.
As eleven of his plays were adapted into feature films, Simon's genius reached even wider audiences. He has had more plays adapted to film than any other American playwright receiving Oscar nominations himself for The Odd Couple (1968), The Sunshine Boys (1975) and California Suite (1978). He has written a dozen original screenplays including: The Heartbreak Kid, Murder by Death, The Goodbye Girl and Only When I Laugh.
Neil Simon's awards include four Tony's, two Emmys, a Screen Writers Guild Award and a Pulitzer Prize. Time magazine said, "If Broadway ever erects a monument to the patron saint of laughter, Neil Simon would have to be it."
Spring 2008 – Much Ado About Will
Shakespeare scenes including Romeo & Juliet, A Midsummer Night's Dream, Antony & Cleopatra, etc. – Spring 2008
Much Ado About Will cast from left: Jason Walsh (BCC theater alumni), Krista Harmon, Duncan Cook, Vanessa Bonventre, Taylor Humphreys, Tiffany Jhingoor, Brianna Starmer, Nicholas Polhamus, Leith Transue, Michael Clark.
December 2007 – Yours Truly, Jack Frost
Holiday Children's Production – December 2007
Front left to right: Dustin Crispell, Christina Jordan, Seth Baczulak. Rear left to right: Kara Skellett, Kenneth Brown, Leith Transue, Olga Snedaker, Michelle Decker, Calvin Grubham, Jessica Austin Duncan Cook, Brianna Starmer, Andrew Frazier
Fall 2007 – A Comedic Timewarp: Five Plays on the Edge
Including Davis Ives' Words, Words, Words, The Philadelphia, Time Flies, Mere Mortals – Fall 2007
Cast members from left to right: Iyla Shornstein, Smantha Sloma, Tiffany Jhingoor, Shareeka Epps, Joe Petrolawicz, Duncan Cook, Kenneth Brown, Delia Heslin, Leith Transue
Top left: Delia Heslin, Duncan Cook, Joe Petrolawicz, Duncan Cook, Iyla Shornstein, Kenneth Brown & Leith Transue. Other cast members not shown: Katherine Bacon, Samantha Sloma, Tiffany Jhingoor, Krista Harmon, Shareeka Epps.
Spring 2007 – 1960's Kaleidoscope
Songs and scenes from the 1960's – Spring 2007
Ensemble for 1960s Kaleidoscope left to right: Andrew Frazier, Michael Clark, Duncan Cook, Zachary Myers, Raine Ford, Jason Walsh, Lindsay Cupelo, Leith Transue, Katrina Ralbag, Michelle Decker, Lauren Balogh, Michelle Miles
Below: Jason Walsh, Leith Transue, Lindsay Cupelo, Duncan Cook.
Fall 2006 – The Miser
By Moliere – Fall 2006
Front left to right: Jason Walsh, Dustin Hirthler, Cassandra Smith, Joe Newbury. Rear left to right: Kiley Burke, Paul Juser, Betty Davenport. Ted Nappi, Lindsay Cupelo, Gabrielle Briggs, Kyle Todack, Michael Clark, Andrew Frazier.
Spring 2006 – Elegies for Angels, Punks, and Raging Queens
Left to right front: J.J. Smith, Jim Gormley, Cody Fish, Kristen Mauro, Elana O'Neill, Connie Lord, Kyle Todack. Rear left to right: Shannon Bricker, Mark Lenihan, Lindsay Cupelo, Jason Walsh, Thomas Fadden, Gabriel Briggs, Justin Willett, Tony Yajko, Ed Shephard
Singer/actors Gabriele Briggs and Ed Shephard.
The work is a full-fledged musical with book and lyrics by Tony Nominated playwright/lyricist Bill Russell – score for cello, harp and piano by Janet Hood. The work is a poetic music-filled tribute to those who have died from AIDS. Bill Russell attended a performance after which he conducted a lively and thought-provoking talkback. A panel of the Names Project Quilt was loaned to BCC for the production and was a backdrop throughout the performances. Bill said the idea for Elegies grew from his love of the play Spoon River Anthology which BCC presented last semester as its major production.
Fall 2005 – Spoon River Anthology
By Edgar Lee Masters – Fall 2005
Cast of Spoon River Anthology Front left to right: Widline Germain, Kristen Mauro, Connie Lord, Steve Walker, Mark Lenihan, Gabriel Briggs. Rear left to right: Christi Finnessey, Deborah Baker, Jason Walsh, Kyle Todack, Katherine Bacon, James Gormley, Brandon Maslar.
Widline Germain and Kristen Mauro
Fall 2005 – David Mamet Sketches
Cast of David Mamet Sketches from left to right: Steve Walker, Josh Shusterman, Becky Frederick, Katrina Apodaca, J.J.Smith. Rear left to right: Connie Lord, Gabriel Briggs, Christi Finnessey, Kyle Todack. Missing from the group photo is special guest actor Tim Gleason
Gabe Briggs and Tim Gleason.
Spring 2005 – Marvin's Room
By Scott McPherson – Spring 2005
Marvin's Room debuted in New York City in 1991. Author Scott McPherson died of complications resulting from AIDS in 1992. The play was adapted as a screenplay by McPherson and produced by Robert Deniro as a film starring Diane Keaton, Meryl Streep, Robert DeNiro and Leonardo DiCaprio. The New York Times said, "…one of the funniest plays of the year as well as one of the wisest and most moving."
Leading actresses Kristen Mauro and Jennifer Crawford
Cast members left to right: Brendan Eggleston, Kristen Mauro, Jennifer Crawford, Trevor Franklin. Missing from the photo are cast members Kyle Todack, Connie Lord, J.J. Smith, Gabriel Briggs and Katrina Apodaca.